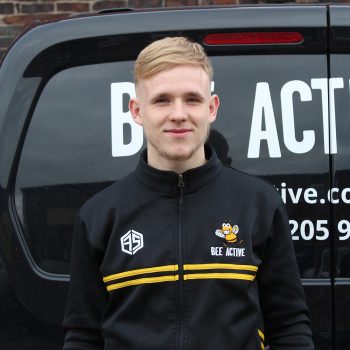 I have just left secondary school and started an apprenticeship with Bee Active. Although this is my first job I am excited to be able to use skills that I have already acquired. At the age of 15 I qualified as a football referee and I feel that this will put me in good stead to start a career coaching

I was fortunate enough to secure a work experience placement with Bee Active when I was in year 11.  I was so impressed by my placement, I loved how the company ran and the sort of things that I could be doing as a coach and I loved it. I applied with Newcastle College as soon as they advertised the job.

So far I love that I get the opportunity to put a smile on child's face, and potentially make a difference to their life. It's a great opportunity to encourage children to keep fit and active as making sport available for all children is something that I'm particularly passionate about.

Outside of work my passion is for football and I currently play for Eastwood Hanley Seniors.

My Ambition for the future is to become a fully qualified sports coach with a wide range of experience and knowledge in coaching. I would also love to continue with Bee Active by becoming a full time sport coach after the completion of my apprenticeship, like many of the ex-apprentices that currently still work for Bee Active!