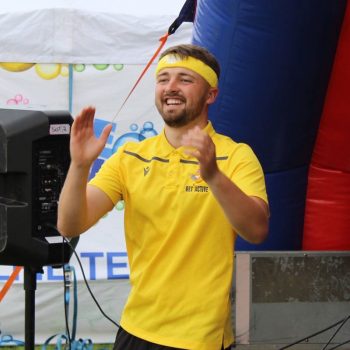 Hi there, I'm Tom.

I graduated Staffordshire Uni in 2017 with a 2:1 in 'Physical Education and Youth Sports Coaching' and joined Bee Active as a Sports Coach. In the Summer if 2019 I enjoyed my first senior role managing our Newcastle Under Lyme school club.

Growing up I was passionate about all sport and regularly went to football and Athletics coaching sessions. I'm still playing the beautiful game now, along with golf and pool over the weekends. I'm currently buying a house with my girlfriend and we are both excited to get our teeth stuck into it and make it our own! I'm a big family man and live for my other half and my dog Tyson. We spend our time together shopping, walking Tyson around Westport lake and enjoying a hot brew in the cafe!

I'm loving Bee Active life and the opportunities that I am able to get here. I love the day to day bustle of the office and the varied sessions that I deliver in schools.

I love teaching your children so if you see me out and about please do come and say hello!