Date of Birth: 20/09/2000
DBS Number: 001673648181
Date of Issue: 11/04/2019
Contact: 01782 205915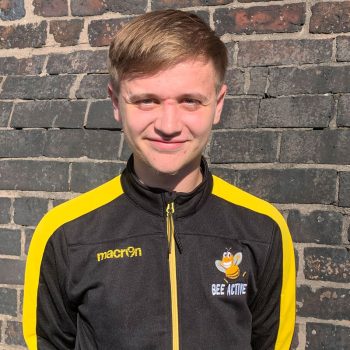 Hi there, I'm Cory!

I studied at Biddulph High School and Sixth Form where I completed A Levels in Physical Education, Geography and English Language. Alongside my studies I was volunteering and working casually at Bee Active holiday clubs. I loved it and this lead me to apply for an apprenticeship! I'm pleased to say I got the job and here I am!

What do I love most about working at Bee Active? I'm sure all my colleagues have said this, but no two days are the same, I love that we get the opportunity to deliver a more structured programme that fulfils the national curriculum, as well as more relaxed lunch and after school clubs, such a circus skills and super hero school! I love that I've got the chance to be a positive influence on the younger generation by helping them to keep active through the sports and activities that we deliver. In addition to this, working with the other coaches day to day as a cohesive team and interacting with one another is one of the key aspects that makes the job so enjoyable.

When not working my hobbies include going to watch my beloved Stoke City where I can enjoy watching my favourite sport and spend some quality time with friends and family. I also enjoy keeping myself active whether that be walking my dog or playing football I like to keep myself fit and healthy.

What are my aspirations for the future? Within Bee Active I would like to grow and develop as a coach that could ensure once my apprenticeship is over that I could work for Bee Active for many years to come. Outside of Bee Active I have ambitions to further develop my coaching skills in football after already acquiring my FA Level 1 Coaching Badge in Football. I want to complete as many of the football coaching badges as possible and if the opportunity arises to work in a coaching role within football. I've always wanted to work within the sports and fitness sector, and Bee Active has given me that opportunity (which I'll be forever thankful for).