Date of Birth: 14/09/2001
DBS Number: 001640375109
Date of Issue: 06/12/2020
Contact: 01782 205 915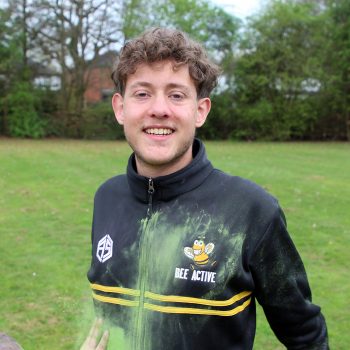 Hi I'm Dario, an apprentice Sports coach at Bee Active.

Ive been working here now since Easter half term where I started at the Holiday club at St Dominics Priory school in Stone.
Since a young lad I've always had a huge passion in sport. Particularly in football where my journey started! I've played a lot of football when I was younger in lots of different positions and experienced Sunday league up until the age of 16.

Unfortunately injury struck and I decided that after this I would go into coaching the sport. I've worked with FC Hanley for 3 years where I coach on a Saturday morning at the community coaching school. I also run my own little under 8s team which I love!
Since then I've completed my FA level 1 coaching course and Im hoping to go onto my level 2 very soon.

With Bee Active I have been able to achieve new heights and goals and explore new possibilities. I've been given the chance of doing what I love which is a dream! I love working with children and helping them to achieve their goals! I hope they see my positivity and determination to my passion and are able to see me as a role model!
My passion is to ensure all children and everyone are happy and healthy as our slogan states! As I'm still new to this and have lots to learn I'm always looking for opportunities to excel myself and ways in which I can be better and how to be a positive aspect not just to myself but every person or child that I work with! My mission is to make sure children are enjoying and engaging in sports whether that be football or any sport across the board!

I'm still learning myself and trying to take in as much experience as possible!

I thrive to make children happy and seeing positive smiley faces gives me the up most joy and courage to do what I love doing best! Coaching sport!