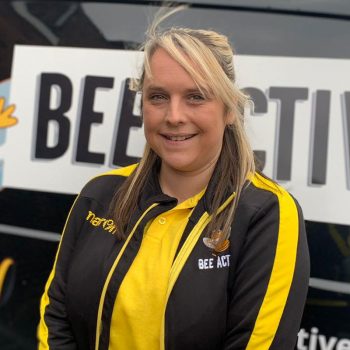 Hello, I'm Nikki the friendly voice at the end of the phone, we may have already spoken to one another!

I started life at Bee Active in July 2018 doing predominantly Business Administration. Before joining the Bee Active family I worked with nursery children for 7 years and in care for a further 3 years. The role is allowing me to stay in touch with my roots while expanding my skill set in administration and finance. Before the opportunity arose I was already a Bee Active supporter, I'd already met some of the team at my nursery setting and already loved their enthusiasm and work ethos. Impressed with what I saw, I even sent my own children to their holiday club provision.

Outside of work I hold down a busy schedule, maintaining my children's busy sporting schedules. I have a daughter, 13 who is a promising young dancer and takes lessons 4 nights a week. And twin sons, 11, who play football all over the city. On the rare occasion that i'm not spending time with my children, I enjoy attending an Adult dance class at Bluebells Academy of Dance. Remember me the next time you pick up the phone to Bee Active and say hello!